Mission statement
Our mission is to empower people with tools and technologies that are completely safe, proven, highly effective, easily adapted to individual lifestyles, to help reduce healthcare costs while increasing quality of life and to help maximize ones' true genetic potential.
Vision Statement
During a radio interview with Voice of America in the late 1990's, Susan Stoltz stated, "It is my vision that sound wave technology will be used as commonly in homes as cell phones and computers as a non-invasive and natural means to support health, wellness and enhance performance, and I believe I will see that happen in my lifetime".  She has held this vision steadfastly since then.
Timeline of The AlphaSonic™ and sound wave therapy
While the origins of using human energy and sound to stimulate healing can be traced back to ancient civilizations around the world, only recently has the technology and its application methods reached unparalleled effectiveness with the development of the AlphaSonic™. Some terms associated with using human energy applied for healing purposes include life force, prana, chi, ki.
"If you want to discover the secrets of the universe, learn about energy, frequency and vibration", – Nicola Tesla
 "Sound will be the medicine of the future",  – Edgar Cayce
Circa late 1900's A group of Chinese scientists seek to prove the effects of emitted focused human energy practitioners in hospitalized patients. Their findings included faster recoveries, less pain and more vitality in hospitalized patients. Highly sensitive recording devices showed the energy healers emitted strong levels of very low-frequency sound waves thru the palms of their hands in the alpha range (8-14 Hz).
Circa 1980's
Early sound wave devices to replicate these healing frequencies were developed in China and came to the United States. The early devices produced varied results, as there were no established application protocols and the quality of the device was sometimes unreliable.
Circa 1991-1998 Highlights
One such sound wave device reduced the recovery time from months to just three weeks for Susan Stoltz, leaving her doctors baffled and asking many questions for which there were no answers.
Seeking answers, she begins working with many different types of doctors documenting both human and animal cases, gathering scientific data and developing methods or "protocols" to get consistent, reproducible results with the device.
Her application methods were scientifically proven to dramatically enhance the results from the device originally developed and patented in the 80's. This resulted in significant improvement in quality of life and performance for thousands of people and animals.
During a radio interview with Voice of America, Susan states her vision is that use of sound wave technology will one day be as commonplace as cell phones as an in-home wellness system and expected to see that happen in her lifetime.
Susan creates new markets and distributes devices with great success. Her importer has no other known competition and Susan's efforts are paying him great rewards, as she expands both the human and animal industry.
Circa 1997-2001 The importer of the original patented device abandons the original factory, begins manufacturing a similar device, changes the original signal to incorporate high beta frequencies under a "chaos" theory, and markets it as "new and improved". The original factory becomes essentially crippled with no distribution method and scores of unsold devices.
Circa 2001 AlphaSonic™ Emerges
Susan discovers the truth behind the spin-off copy and aligns with the new importer of the original technology.  She has scientific studies performed which reveal dramatic differences between importer's spin-off copy and the original device. She severs business ties from the old importer and begins distribution of the original technology under her brand, AlphaSonic™. Susan continues her research, developing product enhancements and teaching her application methods.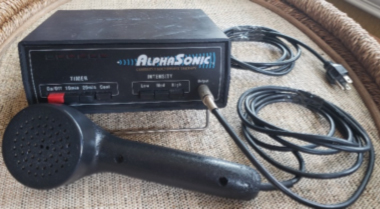 AlphaSonic Professional Series 2001
The first heavy-duty, portable and rechargeable unit was developed and manufactured in the USA to Susan's specifications, the AlphaSonic Pro Series. A ruggedized unit, the AlphaSonic Pro Series was the first to be completely portable and rechargeable. It incorporated the original pure signal plus durable, high-quality parts. It was highly effective, durable and reliable and production sold out quickly. Weighing in at more than 20 pounds, it made applications much easier, but time was needed for the technology to become smaller, lighter weight and more efficient. It would take until 2019 to bring it all together.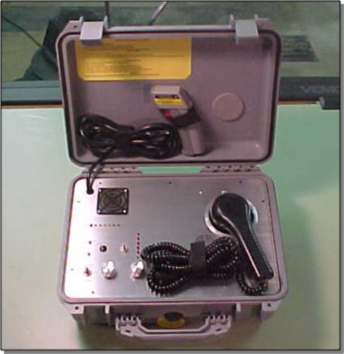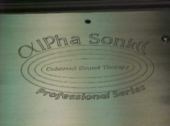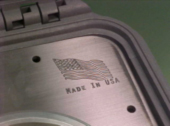 2002-2005
 The decision for Susan to return to distributing the original technology was an easy one, yet it came with high cost. After learning that she switched to the original technology and suffering a massive decrease in sales of his spin-off copy, the former importer sought to eliminate her and her company as a source of competition. Perhaps threatened by her vision and access to the "good stuff", the former importer turned spin off copy producer began a legal war in federal court spending millions of dollars, relentlessly employing nefarious bullying and intimidation tactics attempting to put her out of business. If a company has inferior goods, can't compete fairly in the marketplace and desires to monopolize the market, one can always try crippling the competition in the courts.
To his surprise, Susan fought back steadfastly, learned the law and represented herself in defense of the three hundred and eight (308) page complaint. She refused all settlement offers (including them paying her to stay out of the market) and demanded a jury trial. After several years, the judge ultimately dismissed the case and barred the former importer from forever filing same or similar type complaints against her in any court of the United States.
Other noteworthy offers declined by Susan during the litigation process included an honorary law degree from the court and the opposing lawyer's offer to come work for him. She was now free to continue her mission of bringing the original technology, her research and protocols to the masses with threats of future harassment squashed.
2005 – 2007 The first AlphaSonic™ Dual transducer model. Susan adapts the original AlphaSonic™to support two transducers. This resulted in faster, greater and longer lasting results with reduced application times. It was a huge advancement for applications, but wow… look at all those cords! However, the results experienced by users were worth it.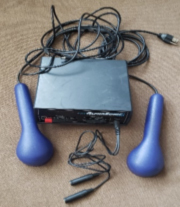 2007-With the original devices no longer in production, Susan's new importer sets up production at a different factory overseas, and has her dual transducer concept built-in. While it eliminated the splitter, new quality issues were presented particularly with overheating and poor quality of parts.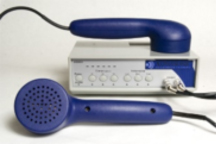 2008 The Protocol Library – THE KEYS to getting maximum results
The AlphaSonic™ becomes a system for delivering the Protocols developed by Susan Stoltz. Scientific studies had already proven her protocols enhanced the effectiveness of the AlphaSonic™ dramatically. One study alone proved an increase of effectiveness by over 3,000% compared to local application. Thousands of hours are spent to create a step-by-step guide of her unique methods developed over decades of research. The Protocol Library consisted of approximately 500 pages and more than 150 protocols to support numerous health issues for people and animals. Users could now get optimum results without having to attend her seminars or thru private training.
 2015 A compact and lighter weight version was being manufactured and carried the AlphaSonic™ brand. A separate setting for delta waves was added and included a 10- and 30-minute timer. Still being produced overseas, it's a step in the right direction yet the design and quality standards are still not what Susan ultimately envisions.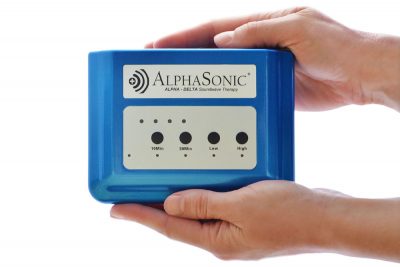 2019 AlphaSonic NextGen System Manufactured in the USA to Susan's specifications
It is said that good things come with time and necessity is the mother of invention. Although results with previous generations have been good, lack of portability and being tied to a wall outlet limited applications. In 2011, Susan revisited her development of the AlphaSonic™ Pro Series (2001) seeking to create a unique system for today's lifestyle. She contracted with a well-established engineering and manufacturing firm in Michigan to meet her specifications:
Superior parts
Quality control
Affordable
Easy to use
Lightweight
Compact
USB Rechargeable
Wearable
Hands free when desired
Portable
Dual transducers
Access to the Complete Protocol Library
Manufactured in USA
The results of prototypes were better than she hoped for and results reported from beta test sites were equally stellar. Incorporating the best features of the original technology, dual transducers the ease of use, portability, wearability and access to the Complete Protocol Library makes the AlphaSonic NextGen System a game changer for all who seek faster recoveries, better performance and quality of life.
"Wearing it while playing golf or daily activities helps me perform better and with greater ease", comments Susan.
SUSAN'S STORY: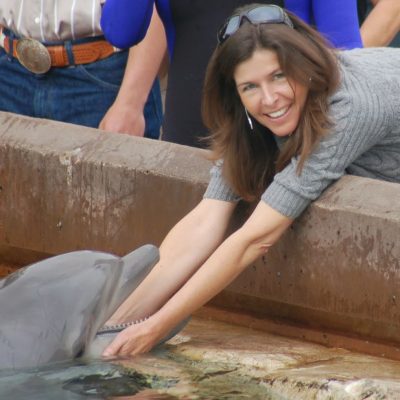 In 1991, AlphaSonic founder and developer Susan Stoltz's doctors told her she had only 24-48 hours left to live, as her organs were beginning to shut down from negative side effects of anti-biotics. The following day, she was introduced to sound wave therapy. With limited time and nothing to lose, she aggressively embraced this newfound treatment. To both her and her doctor's astonishment, she made a full recovery in just a few, short weeks.
While Susan and her doctors believed that sound wave therapy was an integral part of her recovery, there was no available explanation of HOW those results were achieved. Sound wave therapy was in its infancy, and answers to the many questions they had did not exist. Inspired to seek these answers for herself, Susan spent the next several years in research and working with top doctors, where numerous case and controlled studies were performed and closely monitored. Some results were only slightly effective, while others showed a dramatic, even profound improvement.
After years of research, Susan developed a unique, reproduceable and scientifically verified application system to get those results. In one study alone, her methods proved to increase the results of using the AlphaSonic by over 3,000% compared to simply applying the device to local areas. The impact of these results inspired her to create a portable, wearable and rechargeable device to fit today's lifestyle, develop the protocol library, share its benefits and teach others how to incorporate this life-supporting technology to help better their own quality of life and performance.